When a company's outdoor spaces are well kept and maintained, it reflects well on them, helping to create a more aesthetically pleasing and professional-looking area.
These outdoor spaces are also known to boost employee morale and well-being, as well as help to attract and retain clients. All that's needed is a good commercial landscape contractor.
The real quandary here, however, is how to choose the right landscaping company from the many that exist. It doesn't pay to simply enter landscape contractors near me into a search engine and hope for the best, as you can easily end up with a firm that's unsuitable. Don't worry though, as we'll address the right approach here.
But, before we get into that, let's take a look at what commercial landscape firms actually do…
What Types of Commercial Landscapers Are There?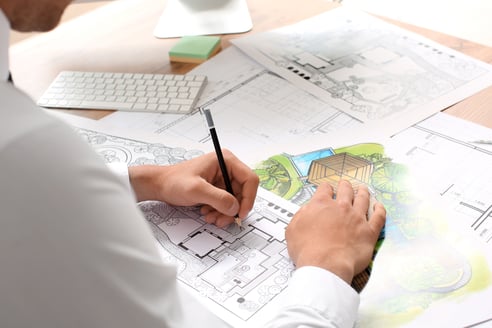 In order to understand what you're looking for from a landscaping company, it's important to establish the differences between the types of landscapers. You could be talking to a straight commercial landscape specialist, but you might just as easily be talking to a landscape designer or even a landscape architect.
While all technically fall under the umbrella term of 'landscape contractor ', they offer quite different services, so they're not guaranteed to offer what you're looking for. Of course, there are firms that offer all these services, but it's important to know what kind of professional you're dealing with to know if they meet your requirements. So, let's break each one down.
Landscape Designers - help clients to create attractive outdoor spaces, although they won't be trained in aspects like drainage, planning, and stormwater management.


Landscape Architects - are highly trained individuals who are experts in engineering, horticulture, and a wide range of outdoor property disciplines.


Landscape Contractors - if a company is listed as a landscape contractor, it could be that they have the above expertise, but it's not guaranteed. That's why it pays to ask questions, as you might find there are certain areas they're not fully qualified in.
Areas in which a good commercial landscaping company should be able to help include:
Ensuring adequate drainage exists for all landscape installation types

Building of water features, rockscapes, paving, and masonry walls

Selection & planting of perennial & annual plants, shrubs & trees

Creation of specialty gardens & interior landscapes

Installation & management of irrigation systems

Light installation for aesthetics & safety purposes

Clearing and grading of land

What to Look for in a Landscape Contractor
As we can see, when you look online for landscaping companies near me, you're casting quite a wide net, meaning that a variety of different types of businesses are going to appear at the top of your search results and there's no guarantee they will all meet your needs.
So, you need to get on with narrowing down the field.
Here are some of the specifics you should be looking out for when making your final decision.
Factor #1 - Past Experience: One thing is for sure, good companies will invariably have a long list of past work that they're eager to show you as a potential customer. If a company doesn't have a list of impressive images of previous projects on their website, you have to ask yourself why, as it represents a big red flag!
Factor #2 - Range of Services: As we've seen, a commercial landscape contractor is not guaranteed to provide the services you're looking for, so you'll need to do your homework. Just because you need hydroseeding or hard landscaping doesn't mean they're covered, so check to see the full range of work offered.



Factor #3 - Sustainable Practices: Eco-friendliness is a big issue in the commercial world these days, so it's incumbent on businesses to do their best to be 'green' whenever they can. A good landscaping company will have a focus on being environmentally aware and energy-efficient as well as using water-saving methods.
Factor #4 - Experience in Your Industry: Should you be looking for help with enhancing your outdoor spaces in a retail setting, for example, you need to know that the company understands the challenges and nuances that your industry faces, as it may have an influence on the final design and installation.
That's why a landscape contractor who's worked in your field already is likely to be a better fit. That's the great thing about firms that have been around for a long time, as they often have experience in a variety of industries and settings.
Factor #5 - Competitive (& Transparent) Pricing:

Lastly, we look at pricing, as it is something that's at the center of the thoughts of most business owners. How much is it going to cost? Of course, we'd always recommend getting a couple of quotes before using any contractor for landscaping, but obviously, a good company will be competitively priced.
It's also important for the company in question to be upfront and transparent with their pricing from the off. If they're guarded or seemingly unwilling even to give you a rough estimate, it might be an indication to carry on with your search.

Karaoğlu Landscaping - A Trusted Industry Name
At Karaoǧlu Landscaping, we've been working in commercial landscaping since 1994 and during this time, we've been involved in projects in construction, retail, and anywhere that requires our expertise. We offer competitive, transparent pricing, and the full range of landscaping services and we have a commitment to delivering high-quality work, the first time of asking.
If you'd like to know more about what we offer, take a look around our website www.karaoglu.com to find everything you need to know. Alternatively, for a free no-obligation quote, give our expert team a call today on (+90) 216 680 44 41!