Are you planning a new retail park and are unsure of how to effectively design your retail landscape? Or maybe, your old shopping mall needs a face-lift?
Either way, you'll need to know these top ten tips for creating, or improving, your retail landscape.
No more do we have to endure the tediousness of these other methods; if you're wondering how you can spawn luscious grass over a large area of land, hydroseeding is both time-saving, and cost-cutting and has the added benefit of being a sustainable practice.
Here's why hydroseeding is the answer to many landscaping questions.
Why Does the Retail Industry Need Landscape Design?
There are countless ways that you can spruce up your landscape to attract shoppers and engage them in your retail park. After all, those who are taking the time to visit a shopping center rather than simply shopping online, are looking for some excitement, so don't let your landscape let them down. Landscape installation, when done properly, highlights aspects of the building structure, juxtaposing the natural with the unnatural to combine architecture with art and the environment.
What's more, in this era, attraction is promotion. What does that mean? Just look at Instagram. Countless posts of beautiful or quirky design ideas being liked and shared drive business growth quicker and more easily than we can comprehend.
So, whether your retail center is old, still in the planning stages, or a multi-faceted park containing much more than just a shopping mall, your business will benefit from the following insights to bring in customers, and most importantly, keep them there.
1. Enhanc
e Your Entrance

The first thing to consider when looking to utilize your landscape design to attract shoppers is: how clear and welcoming is the entrance? Most shopping centers have grand entrances, so add some artistic lighting and splashes of color to make your entrance clear to everyone.

If your business covers a larger area, perhaps with multiple buildings and entrances, try to show them all off with a winding route around your site. Curved paths are enticing and are the best way of taking your clientele past many shops and buildings.

Within your building, you can still show your visitors the way. Plant pots make excellent guides, so use them, not just to add color and bring nature inside, but for navigation.
2. Prioritize Your Parking Lot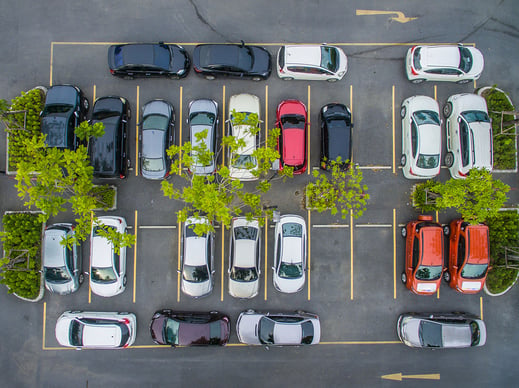 Not all of your visitors will be arriving on foot. For many, the first thing they see will be the parking lot. Did you just have a mental image of a shopping mall car park? Not pretty is it…? Don't let the first impression be of concrete and pillars, but optimize each aspect of the space.

You need lights to guide your visitors to the entrance, shade to protect their cars in hot weather, no falling branches that might cause damage, and finally, clear markers to easily find their cars.

Choosing the right trees for these jobs is a tricky task that will require discussions with experts, but trust us when we say it's worth it. That first impression has to make a big impact to get your visitor to come back and recommend you to their friends and family.
3. Let Your Lighting Shine
Lighting up your retail center will make you stand out from a distance, attracting visitors into the night. It also ensures your visitors feel safe as they discover the mall and head back to their cars.

Yellow lighting is warm and welcoming, however, colorful lights can be effective, so make sure you consider which style of lighting is most appropriate for each part of your space.
4. Lend Color to Your Retail Park
Why simply look at your business through rose-tinted lenses when you can change the whole picture by adding real roses? Color makes a huge impact in catching attention and there is a wealth of color and beauty in nature. Planters, plant pots, and blossoming trees can add richness and vibrancy to your architecture.

When planning your softscape landscaping, it's important to remember that a great deal of maintenance work has to go into keeping your landscape looking fresh. Depending on your budget, your landscaping expert can carefully select perennial plants so you can make the most of year-round color in your landscape, or they can manage and update your softscape features seasonally.
5. Test the Water Features
To give your visitors something to really take their breath away, a water feature will usually do the trick. Either in your entrance or a central location, a grand water fountain will impress from the outset as well as relax your visitors with the soothing sounds of running water.
6. Season's Greetings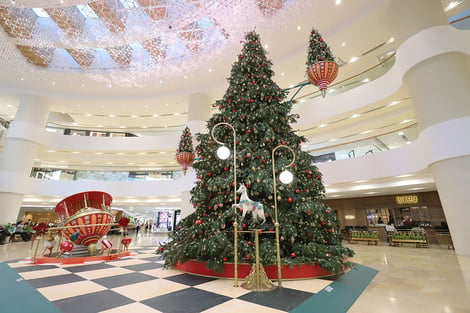 Decorating your retail landscape to celebrate, or commemorate, seasonal holidays and international events will keep your site fresh and dynamic which will keep the visitors rolling in. There are different anniversaries and memorable dates all year which can make a huge impact.
For example, cypress trees and sunflowers are quintessential to Van Gogh's talent, olive trees and peace lilies can be utilized for International Day of Peace, and evergreen shrubs can be shaped into planets or animals to commemorate Earth Day.
7. Stand Out from the Crowd



Do something unique and creative that will give you the upper hand and make you the most eye-catching thing in your environment. Also having one unique focal point in your retail center will make you instantly recognizable for passersby who, for example, might have seen pictures shared on social media and want to take a look for themselves.
8. Interaction Means More Action



With the knowledge that most people shop online nowadays, you should endeavor to make your shopping mall as entertaining and engaging as possible. Interactive areas are a great way to keep people on-site and having a good time.

And luckily, there are so many great ideas out there: playgrounds for the little ones, stepping stones to get from point A to point B, fun topiary… The list is endless, and if it's attractive and engaging to people, they will want to share images, and even tag your business or add the location on social media, which will bring you more customers.
9. Common Areas Don't Have to Be… Common



People want somewhere to sit and take a moment. Especially if their other half is more of a shopaholic than them or the crowds become a little overwhelming. A closeness to nature is fantastic for relieving stress and improving well-being so it's a great idea to utilize it in your common areas. What's more, carefully placed planters and trees can provide privacy, especially great for those escaping conference centers to find some peace. Large trees like maples are a great addition too, to provide shade on those sunny days and shelter on the… not-so-sunny days.
10. Sustainability, Sustainability, Sustainability



Climate activism isn't a fad or a bandwagon to jump on but a real threat that needs to be taken seriously. Show your audience how you're concerned with your environmental impact through your landscaping practices. It's clearly beneficial to the environment but also to your brand image.

You can also consider upcycling for your business. Giving old materials a new life in your landscape is both budget-friendly, artistic and shows your brand's commitment to sustainability.
What Should You Do Now?
Take on these top tips and you're sure to captivate plenty of customers, fascinate them with your unique, interactive designs and encourage them to advocate for your business.

If you're looking for landscaping contractors to revitalize your retail area or work with you to install a completely new build, then we at Karaoglu Landscaping can advise you with our wealth of experience and expertise. As multinational landscaping contractors, you can trust us to meet your needs in a time-efficient and environmentally friendly way.

Since maintenance must be considered when selecting which landscape installation methods are appropriate for your business, make sure you select a landscaping company that will maintain your site efficiently after planning and installing.

You can see our blog on how to choose a landscaping firm here or check out our gallery page to see our previous work here.